Year 5
For our ICT this half term we have been CODING.  We have made our own memory games. Here we are presenting them to the class.
This term we have also written our own stories linked to the Creative Curriculum by researching some of our History and Geography targets.   We focussed on China and the Shang Dynasty and we've all produced a narrative.  Some of us have included landmarks we've looked at, some of us have included some of the Shang kings and some of us included the Shang army to inspire our writing.  Some of us have even used Chinese names and Chinese writing!
Granted these took us a while to complete, but we did it!
Well done Year 5.
In French we have been learning about different genres of music, different musical instruments and preparing short conversations with a shop keeper asking for different music.
Here we are playing a game of snakes and ladders, asking our partner questions about different musical instruments, whether we like them or if we don't like them.
Here we are carrying out our E-safety lesson.  Sam was being the teacher and shared a PowerPoint from home that he completed for his Cubs.  Then the class designed their own E-safety posters to display around the school.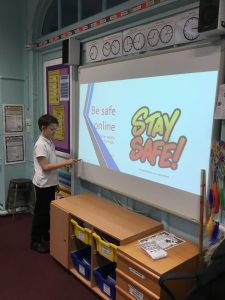 We have been reading the text Wonder by R.J.Palacio as our class novel.  In our writing lessons, we then imagined we were August or Via (August's sister) and wrote diary entries for the night before school, the morning of going to a new school for the first time and then an entry after our first day.  We really got into character and imagined just what it would have been like for Auggie or Via.
Here we are sharing our diaries with our friends.
Here we are talking about our favourite books in groups.
'BOOK TALK' is so much fun!

September 2020   

Hi there everyone, we just wanted to say "Welcome back!"
It's been so nice to see you all back in the classroom again.
Here are just a few reminders…
PE kits will be needed for outdoor PE lessons on Tuesdays and Fridays.
Class 5 are to arrive at school between 8:40-8:50.  If they arrive later than 8:50 they will have to wait as our Year 6 bubble arrive at 8:50, and we need to keep bubbles separate.
Parents are to collect children from Class 5 between 3:15 – 3:25.  If you have no other children to collect, could you please leave the KS2 playground, so the KS2 playground is ready for the Year 6 parents to enter.
Make sure you are all connected to Class Dojo as lots of whole school messages are added to the 'Colwich Primary School' page as well as messages from Miss Barratt and Mrs Muir on our Class 5 page.
Also, once we get permission from all parents about uploading photos of Class 5, we'll share with you what it looks like to be in class 5 during these strange times!!!  Our classroom has even had a paint over lockdown, so it's clean and fresh for us all!
We'd also like to say how well the children have been coping with school life with all the alterations around the school building and playground.  They've been following our new rules carefully to keep us all safe, which has made us feel very proud.  Well done Class 5, keep it up!
As always, thank you all for your continued support.
Miss Barratt (Mon – Wed) and Mrs Muir (Thurs & Fri)

Year 6 2020-2021
Hi everyone,
Please see my short video setting up a bit of a task for you to complete over the summer. I would like you to complete a piece of artwork with a silhouette of your face containing what you like doing in your spare time. This could be anything from playing football to baking to archery. I have attached below an example of the kind of thing I am looking for to help you out. Please bring your artwork when we return to school in September. It will be lovely seeing you all again.
I hope you all have a lovely break and come back to school feeling refreshed.
Take care,
Miss Coxon
Please see an example below:

Lockdown gallery of work and selfies from last years Year 5's.
Charlie R taking part in the daily PE lesson with Joe Wicks.
Isaac at home working out with Joe Wicks.
Charlie R's brilliant Mayan mask.
Charlie R working hard with his Maths.
Isaac fantastic model of El Castillo from Chitzen Itza with his lego.
Isaac growing his own flowers and vegetables.
Joseph's Maths (Day 1)
Joel's Maths (Day 2)
Richard's Mayan project front cover – love the 3D affect text!
Richard's Mayan cafe cover page
Richard's Mayan Cafe menu
Kate's Maths – challenging herself with mental decimal multiplication
Kate adding fractions with denominators that are multiples
Joseph's Star Wars Stormtrooper
Richard's amazing Blue Tit
Aden teaching himself on the piano.  I wonder if he'll write us another song?
Johnny out exercising with his sister.
Charlie F's storyboard for the animation 'Tuesday' come on Charlie, give us a cheeky smile, you can't be missing us that much yet …
Charlie F's Top of the Rocks poster – COME ON COLWICH, keep going!
Kate having her piano lesson, well done Kate.
Josie making her own pizza – Chef Josie, well done!
Josie showing an act of kindness – walking her elderly neighbours dog Bruno.  Well done Josie.
Ava's story board for the animation 'Tuesday'. Beautiful handwriting.
Ava's retell of the animation 'Tuesday'.  Great use of speech marks, well punctuated.
Josie working out with Joe Wicks…….come on George, finish your breakfast!
Reuben working hard with his Maths work.  Keep going Reuben you can do it!
Charlie F's Mayan mask – that's the cheeky smile we all know and love! Well done Charlie.
Charlie R has been learning all about the Great Plague of London and used word to type all this up! Well done!
Finishing this week off with Emma weighing out her ingredients to make her own bread.  Well done Emma!
Here are the key worker children who have been in school.  Let's see what they've been up to!
Clay Creations 26.3.20
Look what Sam was getting up to at home with his – sticky Science experiments!
Milk and food colouring…..
When school was normal! 2019-2029
Do you know what a Kenning Poem is?
Today we shared our Kenning poems with Class 3.  They were inspired by animals of the Amazon Rainforest, made up of two word phrases.
6th March World Book Day
Here are some of Class 5 dressed as their favourite book characters.  Don't they look amazing!!!
During the day we shared some of our favourite books with the children in Class 2.
2.3.2020 – Sharing our Writing with Class 4
Today we went to class 4 to read our Amazon rainforest fact files.  We really enjoyed researching about the location of the Amazon rainforest, the climate, the flora and fauna, the economics and trade and finally the settlements.  Using all our research we produced some fantastic fact files.  Here we are….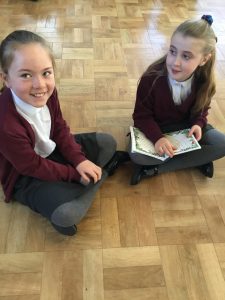 Year 5 bike ability 25th & 26th Feb
Well done class 5 for taking part in Level 2 bike ability.  You persevered in all weathers including snow, wind, hail and rain! Well done!
Here are some of the class in training on the playground before going onto the road.
Time to go on the road.  Be careful!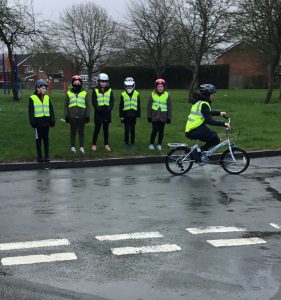 Here they are taking over parked cars.
As it was FREEZING – here they are keeping warm.  Well done Year 5.
Tuesday 11th February 2020 – Safer Internet Day
To make sure we are all safe when using the internet and using different websites, we took part in a quiz all about 'Passwords' finding out what makes a good and secure password.  Here we are!
We scored 10 out of 10, so we feel very safe with keeping our passwords secure!
Let's hope you're SAFE TOO!
Wednesday 29th January 2020  – POD of an Air Ambulance
Here are the children receiving their certificates for the CPR and bleed control training they carried out yesterday.
Here are the children having a look inside the POD which was the first Air Ambulance West Midlands used for rescuing and treating casualties.
28th January 2020 – CPR training
Well done Year 5 for your outstanding behaviour and enthusiasm during this mornings CPR training led by Midland's Air Ambulance.  Thank you to Kelly who we contacted to come into school to deliver the bleed control and CPR training with our class and of course Scott who made the learning fun, enjoyable and very interesting.
Here we are in action!
We even had time to learn how to apply different bandages on each other.
Well done Year 5, you were great!
Happy 2020!!!
Hope you've all had a fantastic Christmas and hope you're ready for another great term packed full with great experiences to drive our learning even further.  Get ready Year 5!
Our own fictional stories based on our Creative Curriculum theme of China.
Children in class 5 have planned and written their own stories, linking their knowledge learnt from our topic on China.  The children really enjoyed writing their own adventures, giving characters Chinese names, exploring the different landscapes and some even tried crossing the Yellow River!  Some children also include extracts written in Chinese writing too!  Well done Class 5.
Here are a few of us reading our stories to other children in the school.
Welcome to Year 5 and 6's Christmas performance 7:00-8:00pm.
Wednesday 11th December.
Here are the words
O Come All Ye Faithful SONG WORDS
19.11.2019 – Class 5's Spectacular Science Show
Today all of class 5 took part in our class assembly which was written by the children themselves.  Our script included four super narrators telling our story, and a range of different cast members ranging from teachers and children, including a couple of naughty children, our bus driver Mike, a range of Scientists, police men and even a soldier and a Viking!  Let's not forget our lights men either.  Well done Class 5, you were all brilliant ….or should I say …."You were all EXCELLENT!!"
Here are a few photographs to try to capture what an EXCELLENT performance the children produced.
Our Narrators …
Our teachers Miss Barratt, Mrs Pearce and Miss Deebank.
Here are our children sitting on the bus with our bus driver Mike…
Here are our fantastic Scientists!
And our naughty children with their new friends, Halfdan the Viking and our WWII solider.
Here are the police men who got tricked to leave the time machine to check the flat tyre!
Finally, our very own lights men.
Well done everyone, you were EXCELLENT!
Science Space projects
Well done class 5 for your Space projects – they are out of this world!
2019 – 2020
Miss Barratt and Mrs Muir would like to welcome you Class 5.
Here we are on our first day in Year 5 2019-2020.
During our first day, as we are reading the text 'The Firework Maker's Daughter', we made some fruit rockets as a juicy start to the year!
What a great start to Year 5!