Year 4
Welcome to Year 4!
Home Learning
Dear parents,
By now you will have all received an invitation to join Class Dojo, which we will be using as our main method of communication. If you require further information about Class Dojo, including privacy setting, please see the link below.
http://www.classdojo.com/en-gb/privacy/?redirect=true#what-is-classdojo
Kind regards
Miss De Ste Croix (6.4.20)
Happy Easter!
Please find below an RE pack of work linked to Easter that you can complete if you choose to. There are a variety of activities linked the celebration.
EASTER HOME LEARNING PACK 2020
Year 4 I have been so impressed with all of your hard work this week. I know everything feels a bit strange, but it has been lovely receiving emails from some for you showing me what you have been up to or just to have a chat. Keep up the fantastic work and stay safe!
Wk2 (30.3.20)
Maths
English
WK1 time factfile comprehension pdf    (wc 23.3.20)
Maths (wc 23.3.20
English
Additional Home Learning Activities
I'm very pleased to hear that so many children in Class 4 are continuing their studies at home. As a result, below are a few websites that we use for our Morning Maths session and for short bursts of practising maths skills. These websites all provide the answers to the questions set and you are able to access work of varying difficulty and year group. I will keep on adding to these over the next few weeks.
I have also included additional work that could be completed on the computer or on paper. Many of these packs include the answers for the children to self mark. The children can also complete any of the half term homework packs previously handed out. You can find pdf copies of these on the class page.
https://myminimaths.co.uk/year-4-mini-maths/
https://garyhall.org.uk/maths-starters-ks2.html
https://www.timestables.co.uk/
Top Marks-Learning to tell the time
https://mathsframe.co.uk/en/resources/resource/116/telling-the-time
Are you keeping up with Joe Wicks? 
Have a go at his daily 30 minute workouts while you're at home!
Children's author David Walliams is releasing an audiobook story every day for us to enjoy at home too!
Please follow the link below
For many of us it is only the first few days into our home learning and I have already received lots of lovely emails from children and parents. Along side their set work from the class website, some children are taking the time to read new books and others are learning new languages. These are some of the examples of work and home timetables I have been sent. Well done Class 4 keep going!!
________________________________________________________________________________________________
Cracking Creatures and Hazardous Habitats
Please follow the links below to the Spring Term 'Cracking Creatures and Hazardous Habitats' Curriculum Plan and homework.
SPRING Term Curriculum Plan pdf
CRACKING CREATURES HOMEWORK pdf
CRACKING CREATURES HOMEWORK spring 2
Sport Relief
Class 4 had a great time taking part in activities for Sport Relief. We took part in a sporty session in the morning, and then in the afternoon we completed a sponsored Zumbathon- 30 minutes of non-stop Zumba! It was hard work but we had lots of fun.
World Book Day
For World Book Day Class 4 came into school in dressed as some of their favourite book characters. As you can see they all looked fantastic! During the day the children created book character top trump cards, completed word searches and drew their own book covers.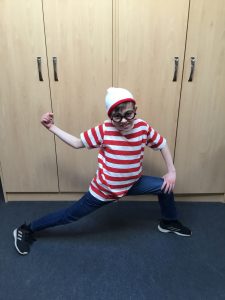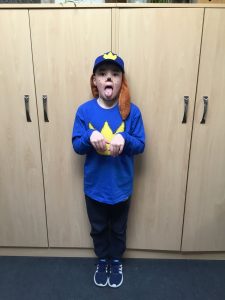 Bikeability
Today Year 4 had the fantastic opportunity to take part in 'Bikeability' training. The class were shown how to take care of their bikes and practised essential manoeuvres.
Safer Internet Day
On 'Safer Internet Day' Year 4 revised their e-safety knowledge by completing online safety activities on Purple Mash.

Geography
In our Geography lessons we have been researching what the climate is like in the Tropics. We looked at the temperature, rainfall and animals that live there and then delivered talks to the rest of the class.
Midlands Air Ambulance
Today Year 4 had the fantastic opportunity to meet and listen to people from the Midlands Air Ambulance. The children were also allowed to climb into a POD of an air ambulance to see what it would be like to try to rescue people in need.
Mammals, Birds, Reptiles, Amphibians and Fish
In our Science lessons we have been looking at how we classify different living things. As a starting point the children had to work out how they would group different living things based on the headings Mammals, Birds, Reptiles, Amphibians and Fish.
Marvellous Mysteries
This term our topic is 'Marvellous Mysteries' please feel free to take a look at our topic overview by clicking on the link below.
AUTUMN Term Curriculum Plan Y4
Celebration!
Due to the fantastic pieces of homework created by children at Colwich, the whole school got a chance to see what each class produced in their Autumn term homework. Children in Year 4 demonstrated brilliant artistic skills, research talents and lovely handwriting abilities. Some children in Year 4 also produced these magnificent musical instruments.
Electrifying Science
In our Science lessons we have been exploring electricity. We have been looking at different ways of creating electricity and which everyday objects rely on either mains or battery electricity to work.
Design and Technology
In our DT lessons, Year 4 have been using our cutting and sewing skills to make these fantastic reindeer hand puppets!
Science
As part of our Science lessons we created our own water systems using a plastic cup, soil, water and cress seeds.
Geography
In our Geography lessons we have been learning about the different countries in Europe. By using an atlas to find out the names and locations of various countries, we stuck Europe back together as best as we could. How did we do?