Year 5
Dear parents,

By now you will have all received an invitation to join Class Dojo, which we will be using as our main method of communication. If you require further information about Class Dojo, including privacy setting, please see the link below.

http://www.classdojo.com/en-gb/privacy/?redirect=true#what-is-classdojo

Kind regards

Miss De Ste Croix (6.4.20)
EASTER activities
Hi everyone.

Well you've all been working hard these last two weeks.  Now it's the Easter 2 week holiday, don't feel like you need to complete some school work everyday, it's time for you to have a break…..have a Kit Kat….no….have an Easter Egg!  However, here are a few things to keep you occupied if you do want to keep yourself active. (Click on the link below)

EASTER HOME LEARNING PACK 2020

Here are some more fun activities provided by Classroom Secrets which you may want to have a go at too.
Week 2 – time to celebrate!
 FAB FIVE
The top 5 children who answered the most questions over the week are ….
1 – Johnny

2 – Sam

3 – Richard

4 – Libby

5 – Kate
 You rock!
The children who earned a TTrockstars certificate for this week are…..
Vean, Johnny, Richard, Ethan, Kate, Isaac, Mia and Joel.
The 20 children who completed the 10 garage games or more this week are….
Vean, Johnny, Charlie R, Richard, Barney, Joel, Fin, Sam, Isaac, Charlie F, Kate, Max, Aimee, Mia, Ethan, Emma, Chloe, Ava, Aden and Reuben.

Well done everyone for your hard work this week.
Week 2
Monday 30th March – Friday 3rd April Home schooling
Hi everyone, hope you are all well and keeping safe.

Here are the suggested English and Maths activities for you to carry out each day.

Wk2 Day1 Decimals – Multiply and divide by 10, 100 and 1000

Wk2 Day2 Decimals-Rounding to the nearest tenth and whole

Wk2 Day 3 Use equivalence to compare and order fractions

Wk2 Day 4 Find unit fractions of amounts

Wk2 Day 5 Find non-unit fractions of amounts

If some of you want a further challenge try some of these activities.

Extension Wk2 Day 1 Multiply and divide 2-place decimals

Extension Wk2 Day 2 Find fractions of amounts

Extension Wk2 Day 3 Multiply and divide fractions

Extension Wk2 Day 4 Short multiplication

Extension Wk2 Day 5 Short division in problems
 Top of the Rocks Poster 30th March – 2nd April

Additional to these English and Maths activities, please go onto TTrockstars as often as possible this week as we have our MAT tournament – Easter Eggstravaganza starting Monday 9:00am until Thursday 6:30pm.

Also, remember we set the target for everyone to complete at least 10 garage games per week.
  Remember to tune in to do your daily exercise with Joe Wicks…can you keep going for the full session?
   Also, if you would like to start keeping a weekly journal, noting down activities you've done over each week as a record of work, photos, drawings, etc…. this would be really nice to share with everyone when we get back to school. You could make it like a scrap book or like our books we make at school with pop up pages, or fold out pages.  Make them as colourful as possible and if you send us photos we can upload them to show your friends.

This week, we'll add the photos and work you send us below this information, so the work is always at the top of this page making it easier to locate.  So remember to scroll down over the week to see what your friends have been up to.

Thanks everyone, we miss you,

Miss Barratt and Mrs Muir.
Here's a 'hi' from Aden and Josie's hamster Hammy…..
Hi from Joseph and Charlie working hard….
Hi from Vean and his secret weapon for TTrockstars….that's how he's doing it!
Hi from Reuben and Bill Class 5….
Hello from Richard….
1st April – Happy birthday to Isaac ….hope you're having a great day.
2nd April – Happy Birthday to Libby …. don't eat too much cake!
3rd April – Happy Birthday to Reuben…. hope you have a great day and lots of fun!
Week 2 gallery of work and selfies
Charlie R taking part in the daily PE lesson with Joe Wicks.
Isaac at home working out with Joe Wicks.
Charlie R's brilliant Mayan mask.
Charlie R working hard with his Maths.
Isaac fantastic model of El Castillo from Chitzen Itza with his lego.
Isaac growing his own flowers and vegetables.
Joseph's Maths (Day 1)
Joel's Maths (Day 2)
Richard's Mayan project front cover – love the 3D affect text!
Richard's Mayan cafe cover page
Richard's Mayan Cafe menu
Kate's Maths – challenging herself with mental decimal multiplication
Kate adding fractions with denominators that are multiples
Joseph's Star Wars Stormtrooper
Richard's amazing Blue Tit
Aden teaching himself on the piano.  I wonder if he'll write us another song?
Johnny out exercising with his sister.
Charlie F's storyboard for the animation 'Tuesday' come on Charlie, give us a cheeky smile, you can't be missing us that much yet …
Charlie F's Top of the Rocks poster – COME ON COLWICH, keep going!
Kate having her piano lesson, well done Kate.
Josie making her own pizza – Chef Josie, well done!
Josie showing an act of kindness – walking her elderly neighbours dog Bruno.  Well done Josie.
Ava's story board for the animation 'Tuesday'. Beautiful handwriting.
Ava's retell of the animation 'Tuesday'.  Great use of speech marks, well punctuated.
Josie working out with Joe Wicks…….come on George, finish your breakfast!
Reuben working hard with his Maths work.  Keep going Reuben you can do it!
Charlie F's Mayan mask – that's the cheeky smile we all know and love! Well done Charlie.
Charlie R has been learning all about the Great Plague of London and used word to type all this up! Well done!
Finishing this week off with Emma weighing out her ingredients to make her own bread.  Well done Emma!
Week 1 – time to celebrate!
 FAB FIVE
The top 5 children who answered the most questions over the week are ….
1 – Vean

2 – Johnny

3 – Sam

4 – Fin

5 – Ava
 You rock!
The children who earned a TTrockstars certificate for this week are…..
Vean, Johnny, Chloe, Isaac, Barney and Libby.
The children who completed the 10 garage games or more this week are….
Vean, Johnny, Sam, Richard, Reuben Chloe Max, Charlie R, Henry, Lily, Mia, Fin, Aimee, Joel, Ethan and Barney. Come on the rest of you, keep up with your class mates.

Well done everyone for your hard work this week.

Lets see who will be our FAB FIVE next week and who will get a certificate for TTrockstars?????
27th March 2020
Clay Creations 26.3.20
Super clay creations, well done!
Look what Sam was getting up to at home with his – sticky Science experiments!

Milk and food colouring…..
Sam's volcano
Wednesday 25.3.2020 – Day 3
Another beautiful, sunny day.  Make sure you get yourself outside in the sunshine.

Joseph has already sent me a video of him hula hooping in his garden.  Well done Joseph, much better than me!

And here's Kate in action playing tennis in her garden. 
Super comprehension work Joel.  
Great understanding of tenses and using dialogue too Joel. 
Super Maths  work too Joel.

Great Maths Emma – what a super star….
Super adverbial work too Emma….
Well done for you adverbial work too Aden. 
Great Maths today, subtracting 5 digits from 5 digits and super writing too Charlie R. 
Wow! Don't mess with the chef!
 Yummy!
Well done Ava, Kate, Johnny and Max, all reading a range of texts using Active Learn – Bug Club.

Keep it up!
    IXL work
Well done Sam and Libby for your IXL work every day so far this week.  Super fraction work.

Well done Kate for answering 247 questions on IXL covering adding and subtracting fractions, multiplying fractions and some Geometry too.  Super star.

Super Zara for answering your money questions correctly on IXL today.

Brilliant Lexie for answering 225 questions so far this week on IXL on numbers and counting.

WOW Johnny, so far this week, you've answered an amazing 382 questions on IXL covering measures, data, geometry and money.  Super star you!
       TTrockstars
Well done Reuben, Sam, Chloe, Richard, Vean, Johnny and Barney for playing on TTrockstars today.
Tuesday 24.3.2020 – Day 2
Well done everyone for getting through your first day at home yesterday.  Here's for Day 2!

To make sure the children who do attend school do some exercise, we will be taking part in Joe Wicks' daily PE lesson.  He's on live at 9am, but you can watch it at a different time if you prefer.  Here is the link….  have fun!

Super work again Barney with your English work, super past and present understanding and your 5 digit subtractions were fantastic!  Well done.
    IXL work
Well done Vean for your IXL work today and yesterday on fractions and decimals , 591 questions answered!  FANTASTIC!

Well done Joseph for completing your 3 digit addition work today, and for your IXL work on Geometry.

Well done Ava for completing 110 questions on IXL on Geometry and fractions.
Here's Henry hard at his writing – a diary entry about being in the Blitz… even on his birthday.

Happy Birthday Henry.
Message from Charlie ……
Look at Josie's own classroom set up at home….all ready to get learning.  Well done.
      IXL work
Well done Reuben for your pronoun work on IXL.

Super Ethan, you've answered 159 questions so far this week using IXL covering all operations, time, data and you've even tried some Year 6 work on decimals.  Keep it up!

Well done Fin, 64 questions recapping vowels and prepositions on IXL.
        TTrockstars
Well done Joel, Libby and Fin for playing on TTrockstars today.
Monday 23.3.2020 – Day 1
Well done Barney for sending your writing and Maths work for today.  Keep up the good work!

Well done Charlie F for making a board game with the theme of the Amazon and learning about the water cycle.

Brilliant Mayan Powerpoint Max – I learnt a lot from this.

Click here to have a look  About the Mayans Powerpoint Max

Well done Johnny for getting your work chart set up and completing your tasks for today.
     IXL work
Well done Charlotte for your IXL work on data and graphs.

Super Lily for answering 93 questions today on geometry and fractions using IXL.
    TTrockstars
Well done to Joseph, Aden, Ava, Isaac, Bill, Kate and Max for playing on TTrockstars today.
Week 1 – WB 23.3.2020
Morning everybody, hope you are all well.

Here are some English and Maths activities for this week.  If you do not have a printer to print off these resources, try your best to complete them in your purple homework books or on paper.  Anything you can do on a computer and email us that would be great! Please take care everyone.

English

Maths

Wk1 Day1 -Mental addition and subtraction strategies

Wk1 Day 2 – Written (vertical) subtraction-decomposition

Wk1 Day 3 – Counting up to subtract-solve subtraction problems

Wk1 Day 4 -Column addition of decimals

Wk1 Day 5 – Counting up to find change and money differences

Also remember the TTRockstars 10 garage games to complete each week.  Have fun 🙂
Home school activities
Hello everyone, we are missing you here in Class 5.  Just to keep you up-to-date, here is our Poetry recital for Spring 2.  If you could learn the following poem ready to perform when you return to school, that would be great!  You may even want to add some actions or make some props!  have fun. 🙂

We've also produced a sheet outlining lots of different websites you can access and to continue with your learning.  Please take a look at the following link.
Sport Relief Friday 13th March
Lets ZUMBA!!!
Here are Class 5 getting active and working on their Zumba moves.  What great fun!!!
Do you know what a Kenning Poem is?
Today we shared our Kenning poems with Class 3.  They were inspired by animals of the Amazon Rainforest, made up of two word phrases.
6th March World Book Day
Here are some of Class 5 dressed as their favourite book characters.  Don't they look amazing!!!
During the day we shared some of our favourite books with the children in Class 2.
2.3.2020 – Sharing our Writing with Class 4
Today we went to class 4 to read our Amazon rainforest fact files.  We really enjoyed researching about the location of the Amazon rainforest, the climate, the flora and fauna, the economics and trade and finally the settlements.  Using all our research we produced some fantastic fact files.  Here we are….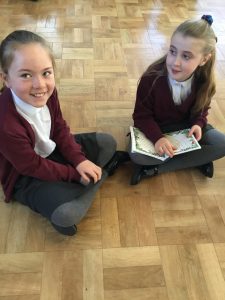 Year 5 bike ability 25th & 26th Feb
Well done class 5 for taking part in Level 2 bike ability.  You persevered in all weathers including snow, wind, hail and rain! Well done!

Here are some of the class in training on the playground before going onto the road.
Time to go on the road.  Be careful!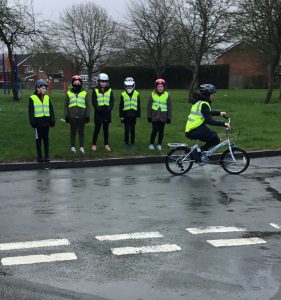 Here they are taking over parked cars.
As it was FREEZING – here they are keeping warm.  Well done Year 5.
Tuesday 11th February 2020 – Safer Internet Day
To make sure we are all safe when using the internet and using different websites, we took part in a quiz all about 'Passwords' finding out what makes a good and secure password.  Here we are!
We scored 10 out of 10, so we feel very safe with keeping our passwords secure!
Let's hope you're SAFE TOO!
Wednesday 29th January 2020  – POD of an Air Ambulance
Here are the children receiving their certificates for the CPR and bleed control training they carried out yesterday.
Here are the children having a look inside the POD which was the first Air Ambulance West Midlands used for rescuing and treating casualties.
28th January 2020 – CPR training
Well done Year 5 for your outstanding behaviour and enthusiasm during this mornings CPR training led by Midland's Air Ambulance.  Thank you to Kelly who we contacted to come into school to deliver the bleed control and CPR training with our class and of course Scott who made the learning fun, enjoyable and very interesting.

Here we are in action!
We even had time to learn how to apply different bandages on each other.
Well done Year 5, you were great!
Happy 2020!!!
Hope you've all had a fantastic Christmas and hope you're ready for another great term packed full with great experiences to drive our learning even further.  Get ready Year 5!
Our own fictional stories based on our Creative Curriculum theme of China.
Children in class 5 have planned and written their own stories, linking their knowledge learnt from our topic on China.  The children really enjoyed writing their own adventures, giving characters Chinese names, exploring the different landscapes and some even tried crossing the Yellow River!  Some children also include extracts written in Chinese writing too!  Well done Class 5.

Here are a few of us reading our stories to other children in the school.
Welcome to Year 5 and 6's Christmas performance 7:00-8:00pm.
Wednesday 11th December.

Here are the words

O Come All Ye Faithful SONG WORDS
19.11.2019 – Class 5's Spectacular Science Show
Today all of class 5 took part in our class assembly which was written by the children themselves.  Our script included four super narrators telling our story, and a range of different cast members ranging from teachers and children, including a couple of naughty children, our bus driver Mike, a range of Scientists, police men and even a soldier and a Viking!  Let's not forget our lights men either.  Well done Class 5, you were all brilliant ….or should I say …."You were all EXCELLENT!!"

Here are a few photographs to try to capture what an EXCELLENT performance the children produced.

Our Narrators …
Our teachers Miss Barratt, Mrs Pearce and Miss Deebank.
Here are our children sitting on the bus with our bus driver Mike…
Here are our fantastic Scientists!
And our naughty children with their new friends, Halfdan the Viking and our WWII solider.
Here are the police men who got tricked to leave the time machine to check the flat tyre!
Finally, our very own lights men.
Well done everyone, you were EXCELLENT!
Science Space projects
Well done class 5 for your Space projects – they are out of this world!
2019 – 2020
Miss Barratt and Mrs Muir would like to welcome you Class 5.
Here we are on our first day in Year 5 2019-2020.
During our first day, as we are reading the text 'The Firework Maker's Daughter', we made some fruit rockets as a juicy start to the year!
What a great start to Year 5!