Year 5
Summer 1 2021
Now the weather is getting better, we are doing lots of fun learning outside.
We've had a TEAM BUILDING day, working together to solve lots of different problems.
Here we are taking part in an 'Active Maths' lesson – finding equivalent fractions and decimals, then rounding decimal numbers to the nearest whole number when the ball was thrown to us.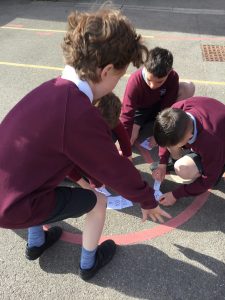 Here we are playing rounders.  We have some very good throwing, catching and batting skills in Year 5.  Great team work!
We've also shown our caring nature and our artistic talents by drawing posters for the HOPE project.  These posters will be displayed at the Kingston Centre for when people go to have their vaccines.
EASTER treats at Colwich – yummy!
Spring 2 – After lockdown
Here we are, so happy to be back at school with our friends.
Here we are reading our myths to our friends as we can't mix 'bubbles' yet.
Spring 1 2021
Unfortunately, due to Covid we didn't come back to school straight away, but we continued with our learning remotely at home.
For our writing we wrote a newspaper report about August and Treacher Collins Syndrome.  Here are some of our reports.
Christmas at Colwich
We had great fun during our Winter Wonderland day thanks to our PTFA for organising everything.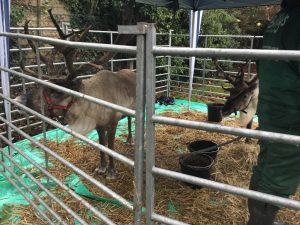 We got to see real reindeers and Father Christmas! What a super day.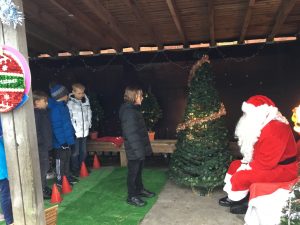 Autumn 2 2020
For our ICT this half term we have been CODING.  We have made our own memory games. Here we are presenting them to the class.
This term we have also written our own stories linked to the Creative Curriculum by researching some of our History and Geography targets.   We focussed on China and the Shang Dynasty and we've all produced a narrative.  Some of us have included landmarks we've looked at, some of us have included some of the Shang kings and some of us included the Shang army to inspire our writing.  Some of us have even used Chinese names and Chinese writing!
Granted these took us a while to complete, but we did it!
Well done Year 5.
In French we have been learning about different genres of music, different musical instruments and preparing short conversations with a shop keeper asking for different music.
Here we are playing a game of snakes and ladders, asking our partner questions about different musical instruments, whether we like them or if we don't like them.
Here we are carrying out our E-safety lesson.  Sam was being the teacher and shared a PowerPoint from home that he completed for his Cubs.  Then the class designed their own E-safety posters to display around the school.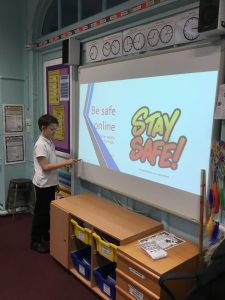 We have been reading the text Wonder by R.J.Palacio as our class novel.  In our writing lessons, we then imagined we were August or Via (August's sister) and wrote diary entries for the night before school, the morning of going to a new school for the first time and then an entry after our first day.  We really got into character and imagined just what it would have been like for Auggie or Via.
Here we are sharing our diaries with our friends.
Here we are talking about our favourite books in groups.
'BOOK TALK' is so much fun!

September 2020   

Hi there everyone, we just wanted to say "Welcome back!"
It's been so nice to see you all back in the classroom again.
Here are just a few reminders…
PE kits will be needed for outdoor PE lessons on Tuesdays and Fridays.
Class 5 are to arrive at school between 8:40-8:50.  If they arrive later than 8:50 they will have to wait as our Year 6 bubble arrive at 8:50, and we need to keep bubbles separate.
Parents are to collect children from Class 5 between 3:15 – 3:25.  If you have no other children to collect, could you please leave the KS2 playground, so the KS2 playground is ready for the Year 6 parents to enter.
Make sure you are all connected to Class Dojo as lots of whole school messages are added to the 'Colwich Primary School' page as well as messages from Miss Barratt and Mrs Muir on our Class 5 page.
Also, once we get permission from all parents about uploading photos of Class 5, we'll share with you what it looks like to be in class 5 during these strange times!!!  Our classroom has even had a paint over lockdown, so it's clean and fresh for us all!
We'd also like to say how well the children have been coping with school life with all the alterations around the school building and playground.  They've been following our new rules carefully to keep us all safe, which has made us feel very proud.  Well done Class 5, keep it up!
As always, thank you all for your continued support.
Miss Barratt (Mon – Wed) and Mrs Muir (Thurs & Fri)